The FLIR MR265 is a professional pin and pinless moisture meter with thermal imaging designed to show you exactly where to investigate issues related to moisture, air leaks, and insulation voids.
Featuring IGM™ (Infrared Guided Measurement) and MSX® (Multi-Spectral Dynamic Imaging enhancement) technology, the MR265 helps you quickly scan and target problem areas, visually guiding you to the spot where you can confidently take measurements, analyze readings, and ensure that problems are fixed.
Using FLIR Thermal Studio™, you can then create and share professional reports that include findings and proof of repairs – giving your clients peace of mind that mold, rot, or moisture challenges have been resolved.
GET TO THE PROBLEM FASTER

Pinpoint problems at the source using the 160 × 120 (19,200 pixels) built-in thermal camera, 2 MP visual camera, bright worklight, laser, and MSX, which embosses visual details onto thermal images

WORK SMARTER

Assess moisture with pinless or pin measurements, and choose from a variety of optional, compatible probe accessories for flexibility and convenience on the job

IMPROVE COMMUNICATION WITH CUSTOMERS

Document both thermal and visual images before and after repairs, and create professional reports using FLIR Thermal Studio to better communicate problems and repairs
Pin and Pinless Moisture Measurement
The MR265 also offers flexibility in identifying moisture issues—providing both pin and pinless capabilities.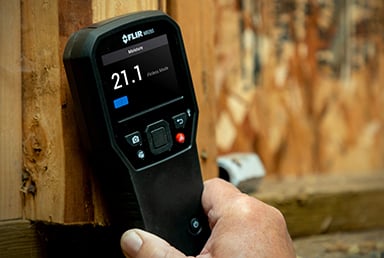 The pinless option can provide qualitative measurements through an integrated sensor for situations where a more invasive method either isn't possible or would cause unwanted damage.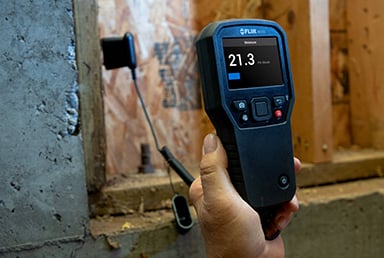 Conversely, pin measurements produce quantifiable measurements using a resistive sensor that can pierce cavities and other suspected moisture spots within walls, ceilings, and floors.
When used with the thermal imager, operators can scan an entire interior wall to narrow down the moisture location, use the integrated sensor to pinpoint the source of water intrusion, and then measure the exact amount of moisture without requiring unnecessary demolition.
Functionality can be further expanded through six compatible accessory probes and sensors available for the MR265, such as the FLIR MR08 hammer and wall cavity probe combo and the FLIR MR05 impact pin moisture probe.